Hanama`ulu Beach Park Cleanup
Saturday, April 16, 2011
7 AM - 12 Noon
Chairman, Eddie Sarita
Hawaii's balmy weather prevailed and 77-some volunteers spruced up Hanama`ulu Beach Park trimming trees, weed wacking, cutting grass; painting picnic tables, pavilion walls, & restrooms; spray painting the eaves and ceiling of the pavilion, raking, and hauling green waste to the transfer station at Ahukini.
The volunteers who made the cleanup possible included the Alii Motorcylce Club, Hanama`ulu Neighborhood Association and other Hanama`ulu residents, Kapaa Missionary Church, Kaua`i Drug Court, Kaua`i Police Dept., Kaua`i Visayan Club, Koa Puna Motorcycle Club,PIHI (Philippine Island Hawaii Island) Cycling Club, and other volunteers from around the island.
Cleanup Saturday was a glorious day!
Grandmas, Moms, and young ones helped!
Wm. Neil Rapozo, HNA president, shows Cindy Duterte
a picture he took of her grandson Jai raking. Also
raking is Cindy's daughter Tamara.
Top priority: Trimming trees around park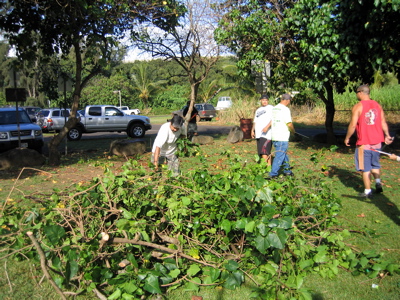 PIHI members and families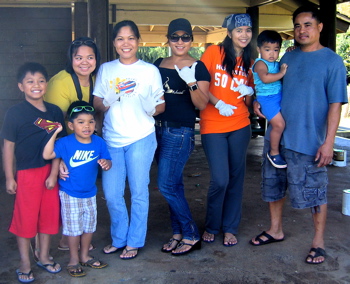 Philippine Island Hawaii Island (PIHI)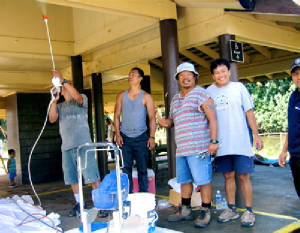 Cycling Club paint the interior of the pavilion
Russell Haluapo, member,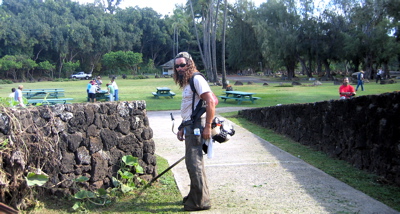 Koa Puna Motorcycle Club
Lt. to Rt.: Cody Goias (Hanama`ulu), an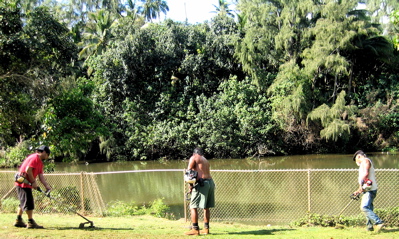 unidentified volunteer & Arthur Kahahawai
Tito Villianueva & Bill McLaughlin (Am. Medical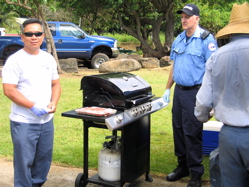 Response Team) help Eddie Sarita barbecue tri-tip.
Joe Kua, Kaleo Perez & Pastor Larry Matsuwaki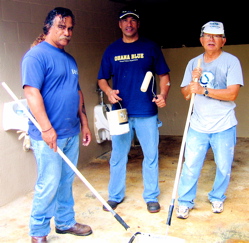 paint the interior of the Kane Restroom

Stream @ Hanama`ulu Beach Park | Karl Lo Photo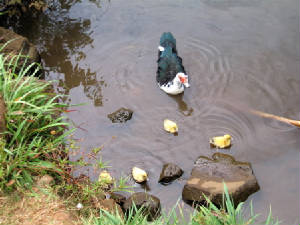 Saturday, March 29, 2008
Hanama`ulu Beach Park Workday Set
Letter from Eddie Sarita (346-0090, eddiesarita@hotmail.com)
Posted March 10, 2011
Aloha All:
In order to provide all of you with as much advance notice as possible, please be advised of the upcoming Hanama`ulu Beach Park Cleanup Workday scheduled as follows:
Date: Saturday, April 16, 2011
Time Start: 7 am
Time End: 12 noon
Location: Hanama`ulu Beach Park
The project will involve clearing and removal of overgrowth & bushes, general landscaping work, pressure washing of all concrete floors and walkways and painting of the interiors of the new pavilion, two restrooms and all picnic tables. We may also do demolition of the old termite-eaten shower stall by the old pavilion.
I have contacted the Kauai Drug Court, Capt. Sherwin Perez and his police volunteers and the two motorcycle clubs that use the park occasionally. Dale will do the Oeanic TV listing for the event; I have a Public Service Announcement about the project ready to be delivered or emailed to KONG Radio and FM97 Radio. The county will also do a press release and will close the park from April 11 thru April 23. I will also contact Dennis Fujimoto of the Garden Island and ask him to write something about the project to invite volunteers. Dale will also be mailing a letter signed by Neil to Janie Whitehead, Manager of Wal-Mart, to ask their employees to participate. All of this will be done over the next few weeks and not all at once. We will also write to or contact other organizations to tell about the project and to ask for volunteers. If we can get 40 - 50 volunteers to help, that should be enough.
Neil is working with the manager of the Kauai Beach Resort to provide lunch for the volunteers. We will have bottled water and soda for refreshments.

I am humbly asking each of you to set aside April 16 and come out to help. It is a sacrifice, I know, but a very worthwhile one. We are also encouraging those who can, to bring weedeaters, chain saws, lawn mowers and other small equipment to get the work done easier and faster. The Kauai Drug Court volunteers will do their assignment on Thursday and/or Friday which will be to collect trash from both sides of Hehi Road down to the park, pick up trash along the beach and do pressure-washing.

I have been advised that any long-term homeless people have been asked to leave and all their rubbish removed and disposed. The police and park rangers will ensure that they do not return.

You can help by spreading the word and asking those you know to come and help. Please let me know if you have anyone committing because I need a headcount for food and refreshment purposes.

The last time we performed a cleanup at the beach park was in March 2008; three years ago!

Thank you all for your dedication, help and for being members of the best association on Kaua`i.

Eddie

Blessing and Re-opening
of Hanama`ulu Beach Park ...
after the major cleanup in February & March 2008
(for cleanup details scroll to bottom of page)
Hanama`ulu Beach Park | Karl Lo Photos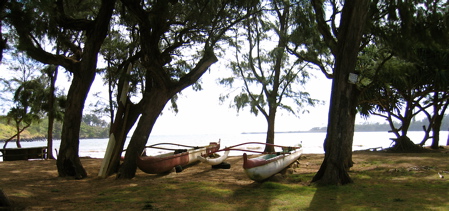 Sat., Mar. 29, 2008: Blessing & Re-opening
Shaylene Iseri-Carvalho, Bernard Carvalho Jr.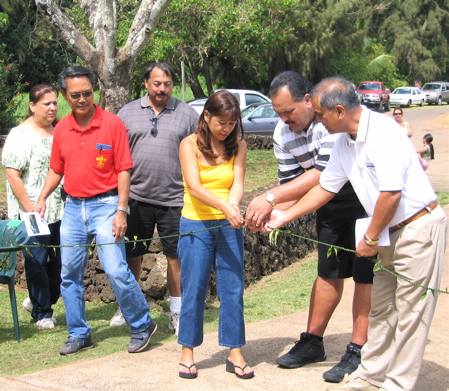 and Eddie Sarita untie ti leaf lei at entrance of pavilion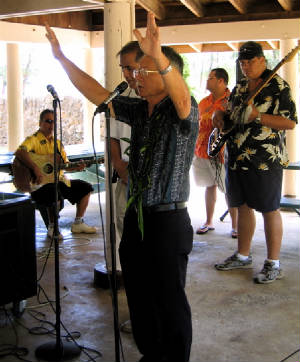 Left: Pastor Larry Matsuwaki of Thy Word Ministries (now Faith Christian Fellowship) at Hanama`ulu blesses Hanama`ulu Beach Park, starting at the pavilion. Around him are Eddie Sarita, president of Hanama`ulu Neighborhood Association and musicians Allan (Keola) Alalem, Wesley Kaui, and Charlie Aiona.
Above: Shaylene Iseri-Carvalho, Kauai County Council member; Bernard Carvalho Jr., head of Kaua`i Dept. of Parks & Recreation; and Eddie Sarita untie the ti leaf lei. Looking on are Theresa Koki, Kauai anti-drug coordinator under whose program Hanama`ulu was declared a "Weed and Seed" community in 2006, thereby receiving funds to clean up drug-related activities; Vic Villon, vice-president of HNA and scoutmaster whose Boy Scout Troop 168 helped with the and Ray Paler, community volunteer.