Saturday, June 21st  

The first day of summer was a busy day on the Garden Island!  With KIUC's (Kauai Island Utility Cooperative's) 6th annual membership meeting & celebration at Vidinha Stadium from 10 am to 4 pm, and with other events on that day, the HNA potluck/bingo was not as well attended as the last, but those in attendance enjoyed the evening nonetheless.




Saturday, July 19th   

The Historic Hapa Road Walk at 10 AM, and the Sunset Ho`olaule`a at Sheraton Kauai Resort at Poipu  from 4 to 9 PM started  Koloa Plantation Days 2008 today, July 19.  Competing with these events, the HNA third monthly potluck & free bingo, nonetheless, had 45 to 50 attendees.  Below are pictures of the get-together taken by Karl Lo.
Hanama`ulu Beach Park Pavilion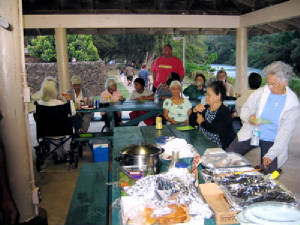 Saturday | July 19, 2008






Residents and friends of Hanama`ulu Town reclaim Hanama`ulu Beach Park!   The monthly potluck/bingo sponsored by the Hanama`ulu Neighborhood Association is a happy event that reflects the change at the park.  Since the reopening and dedication of the park on Saturday, March 29, 2008, after a month-long major cleanup by Kauai County workers and community volunteers, picnickers and visitors feel safe once again after years of avoidance.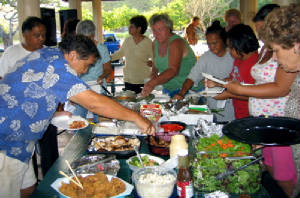 Potluck supper promptly starts at 6 PM!  The table is always laden with delectable dishes!  The photo does not show the desserts at the end of the table!
     Right:

Lily Pia Kiilau, Dolores Dias, & Geri Travaso Duarte.