We will post on this page the Hanama`ulu Neighborhood Association Newsletter, or excerpts from its pages.
Regrettably, the Webmaster cannot post the newsletter as it is printed. It would be great if our Internet viewers can see the newsletter as it appears in hard print. The masthead, images, formatting, and finishing touches are attractive, and we congratulate Laurie Kelekoma for serving as editor since July 2007.
Below is the text of the January 2011 HNA Newsletter, which will be distributed house-to-house in Hanama`ulu by Saturday, January 29, 2011. With this posting on this the 22nd of January, you have a preview.
Hanama`ulu
Neighborhood Association
January 2011
www.htcelebration.org/hanamauluneighborhoodassociation
Happy New Year
from the
Hanama`ulu Neighborhood Association
INCLUDEPICTURE "http://2.bp.blogspot.com/_Pg6iHDcQn6g/TRlNLSbp24I/AAAAAAAAARk/fhnlb4rlAOk/s1600/Happy-New-Year-2011.jpg" \* MERGEFORMATINET
Association Elects New Officers For 2011
Association elects new officers for 2011. We would like to introduce the newly elected officers:
President Neil Rapozo
Vice President Eddie Sarita
Secretary Dale Matsuura
Treasurer Laurie Kelekoma
Sgt.-at-arms Florentino "Tono" Duterte
All of the new officers are Hanamā'ulu residents and have been long-time members of the association.
The Officers encourages all current residents (and former residents) of Hanama`ulu to join the association by completing the registration form attached. As we begin a new year we would also like to ask current members to also submit a registration form as we would like to update our database to ensure that we will be able to keep everyone informed of our activities and events.
Please mail your completed form to:
Hanamaulu Neighborhood Association
Attention: Membership
P.O. Box 206
Hanamaulu, HI 96715
Or simply bring it to our next meeting. We would love to see you there! (See schedule)
Association Monthly Meeting Schedule for 2011
Meetings are held every third Thursday of the Month at King Kaumualii Elementary School Cafeteria at 7: 00 pm. January 20 (CANCELLED), February 17, March 17, April 21, May 19, June 16, July 21, August 18, September 15, October 20, November 17.
2011 PARK FAIRS SCHEDULE SET
Park Fairs Committee announces the 2011 Park Craft Fair Schedule. Fairs will be held the following Saturdays: February 26, May 28, August 20, November 19.
Fairs will all be held at Rayno Park in Hanamā'ulu and are open to the public from 8 am to 1 pm. Booths are available for $20 each and are 20 ft. x 20 ft. in size. Vendors are responsible for bringing their own tents and tables. Vendors are allowed access to the Park at 7:00 am to set up their booths. Spaces are limited, so reserve your booth early. If you have items such as tools, clothes, equipment, crafts and especially fresh produce and are interested in participating in our fairs, please contact Eddie Sarita at 346-0090.
Cleanup & Maintenance Continues
Of The Filipino & Japanese Cemeteries
Another cleanup of the old Filipino & Japanese cemeteries located at the bottom of Kalepa Hill near the Kalepa Village will be scheduled soon according to Peter Rayno, Chairman of the Cemetery Committee. The Hanamā'ulu Neighborhood Association has been doing cleanups of the cemeteries since 2003 and have improved the landscaping of the cemeteries with these efforts. "We need more volunteers to help with the cleanups and we hope that Hanamā'ulu residents will step up to help friends or relatives buried in the cemeteries especially asking residents who may have to come out a lend a hand" said Rayno. In past years, we were fortunate to have had help from Stan Morinaka of Veterans Express in Līhu'e and his employees to come with their backhoes and trucks to haul the rubbish to the dump. With the help of Mike Tresler and Grove Farm Co. the association built a shed near the gate of the Filipino cemetery for protection from the sun and rain. Grass has also been planted to help hold the soil in place and prevent runoff. The cemeteries today are in far better condition than in 2003. The cemeteries are owned by the county but regular maintenance was not done thus allowing Guinea Grass and bushes to cover the cemeteries and making them difficult for people to visit the graves of loved ones. Anyone interested in helping should call Eddie Sarita at 346-0090.
Monthly Adopt-A-Highway Cleanup
Members of the Hanamā'ulu Neighborhood Association and others under the leadership of Laraine Moriguchi, Owner of SignArt in Kapaia, have been doing cleanups from the Wilcox Hospital through Hanamā'ulu until the baseyard for Robert's Tours north of Hanamā'ulu Town. The cleanups have been done on every third Saturday of the month (following association meetings which are held on the 3rd Thursday of each month). The highway cleanups are finished quickly according to Laraine due to the number of people who participate.
We would like to thank the following volunteers who assist us in this project every month: Ben Alayvilla, Clayton Cataluna, Tono Duterte, Roy Goo, Pauline Ibia, Herbert Kakutani, Catherine Mata, Larry Matsuwaki, Eddie Sarita,Vic Villon, George Freitas, Elizabeth Freitas.
And many other who participate on a monthly basis we sincerely thank you for your much needed assistance.
Anyone wishing to help can call Laraine Moriguchi at SignArt at 246-8612 or you can met us at Hanamaulu Café Parking Lot at 8am every Third Saturday.
Association Christmas Party
More than 100 Hanamā'ulu Neighborhood Association members and their families and friends enjoyed their annual Christmas Party held on Thursday, Dec. 16, 2010, at King Kaumuali'i School Cafeteria in Hanamā'ulu.
The potluck dinner featured many different and delicious kinds of foods and desserts. Afterwards singing of Christmas Carols, dancing by the seniors of Līhu'e Senior Center, grab bag and bingo capped the evening festivities. Everyone really enjoyed the party and Pastor Rocky Sasaki declared the event "the best Christmas Party that the association has sponsored yet." The party committee was chaired by Eli Ward and Dale Matsuura with lots of help from Dely and Pastor Rocky Sasaki and others.
Hanamā'ulu Neighborhood Association
To Apply For Non-Profit Status
INCLUDEPICTURE "http://watchmanjohn.com/Images/nonprofit.jpg" \* MERGEFORMATINET
With legal help from Attorney Jonathan Chun of the law firm Belles Graham Proudfoot Wilson & Chun LLP, the Hanamā'ulu Neighborhood Association will soon be applying for non-profit status with the U.S. Internal Revenue Service. Application to achieve the designation is very difficult and could cost thousands of dollars according to Eddie Sarita, Vice President of the association. The non-profit status will help the association not only to apply for grants from state and county governments and other charities to help with planning and construction of a new community center for Hanamā'ulu, a long-term project for the association. Attorney Chun is doing all of the legal work Pro Bono (complimentary). "We are deeply appreciative and indebted to Mr. Chun" said Sarita, "he is helping us to realize a dream to get this special project started and to raise the money to do it."
Hanama`ulu Hillsiders Senior Softball Team
Fix Rayno Park Infield
Members of the Hanama`ulu Hillsiders Senior SoftBall Team led by Peter Rayno have been working hard fixing up the infield of Rayno Park to make it ready for the new senior softball season which will start soon. Members are working on the basepaths and the infield grass areas. The improvements will make the infield not only better to play on but also safer for the players according to Rayno.
Hanamā'ulu Beach Park Cleanup Planned

Another cleanup of the Hanamā'ulu Beach Park is being planned according to Eddie Sarita who is working with County of Kaua'i's Dept. of Parks & Recreation on plans for the cleanup of the park. The last cleanup was done in March 2008 nearly 3 years ago which saw the removal of derelict cars, painting of the picnic tables, and the new pavilion as well as landscape cleanup and pressure-washing of the concrete walkways and floors of pavilions. Announcement of the cleanup date will be made in the news media as soon as plans are complete according to Sarita.




If you can help, please call Eddie Sarita at 346-0090.
Ducks at play at Hanama`ulu Beach Park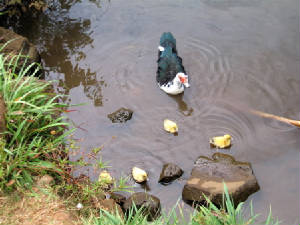 March 29, 2008 | Karl Lo Photo












Membership Registration Form







Name: ____________________________________________________________________________________




Street Address: _____________________________________________________________________________




Mailing Address: ____________________________________________________________________________




City: _____________________________________ State: _____________ Zip: _________________________




Telephone: _______________________________________ Cell: ________________________________




e-mail:_____________________________________________________________________________________







Yes, keep me posted on how I can help with community events:




Cemetery Clean Up Highway Adoption Project Attend Monthly Meetings




Graffiti Removal Holiday Residential Decorating Contest Fundraising Efforts







Other: ____________________________________________________________________________













Mail to: Hanamā'ulu Neighborhood Association, P.O. Box 206, Hanamaulu, HI 96715 HYPERLINK "mailto:hanamauluneighborhoodassociation@yahoo.com" hanamauluneighborhoodassociation@yahoo.com
ARCHIVAL MATERIALS