Laoag City Capitol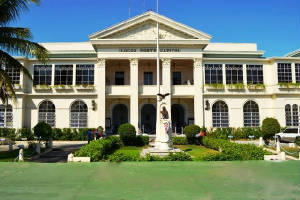 March 6, 2012 | Juan Ochoco Photo
LEGACY
″. . . I have kept the faith.″
--St. Paul: 2 Timothy 4:7
He was a man of faith who read the Bible.
He enjoyed telling Aesop′s Fables.
His name was Victoriano Pascual:
My paternal grandfather:
A woman of faith,
She had a chapel built in the village and
Led family, relatives, and neighbors in worship.
Her name was Eugenia Francisco Bangloy:
My maternal grandmother.
I learned as a child that faith matters,
And I have kept the faith.
I learned as a child
That faith is a strong cord
That stretches from the setting of the sun
To the dawning of a new day
And to yet another day and night
Serving as a harness
Connecting us to life's wonderful possibilities
From which we are often detached
Because of our fascination with catching
And holding unto the silk threads of life
Which are slippery and can cause us to fall.
The story has it that King James used to ask
For his old shoes: They were kinder to his feet.
Faith is like old shoes: We call on it
Especially when what is new in life
Hurts, disappoints, or brings distress.
Faith gives us peace and comfort.
Elinor Wylie promised:
″We shall walk in velvet shoes.″
Faith enables us to walk in velvet shoes
And enjoy the energizing silence
That often eludes us.
I have kept the faith
Which empowers us
To hear the assuring whisper
Of the love and comfort
Of a caring and loving God.
I have kept the faith
And in partnership with family and friends
I walk life′s pathways
Ever mindful of the God I obey and serve.
(2000/2004)
* * * * * * *
ODE TO PEACE
The sounds of Christmas carols have faded away,
And television stations have ceased presenting
Christmas stories and celebratory programs.
The Christmas ornaments are boxed
And stored on the closet shelf
Until next Christmas.
Calories gained from lunches, dinners and
Other Christmas socials still remain,
And the Christmas message of
Peace on earth, good will to men
Still abides in our hearts
Because we don't set it aside after Christmas.
The Angelus that rang morning, noon, and sunset
In the Philippines where I grew up comes to mind.
Its urgent call for prayer abides in the core of my being.
And I sing in my heart a song we sing at Christmas:
"Let there be peace on earth,
And let it begin with me . . ."
Oh, that churches from coast to coast ring the Angelus
And men, women and children stop and bow their heads
At the sound of the Angelus and pray for peace
Morning, noon, and sunset!
There would be peace on earth
Because it would begin with everyone.
(12.28.2004/05.29.2007)


PLUCK
The night is dark
and December's prevailing wind
is fanning 
the wintering of my heart and mind.

My harp harkens the dawn of a new day.
The sound touches
the melancholy chords in my heart
that vibrate with the black movements of night.

I'll play on
until a new day comes.

I'll pluck on
until the last string breaks.

(Feb. 29, 1969)
Note: No, the author does not play the harp. This poem is a memorial of sorts to the harp that her parents had in their restaurant, The Plaza Lunch, which was a thriving business in Laoag, Ilocos Norte, but it was lost in World War II. The author remembers seeing a picture of the harp, and the image has stayed in the recesses of her mind. This piece is an acknowledgment of the harp's existence in the life of her family.
AN ODE TO GRANDFATHER
You fashion earrings, rings, and chains
from alloy of gold and silver,
from jewelry that need redesigning
to be wanted, appreciated, and used again.
You tell me every time I watch you at work:
Your future is like rough diamond:
It needs shaping,
polishing,
mounting.
And you remind me often:
Your future is in your pocket:
Look at it,
mount it
on a singular setting:
an enhancing,
enriching,
setting.
(©2001)
I WRITE BOLDLY UPON THE PAGE
Filling my pen with the ink of imagination and reality
I write boldly upon the page whatever flows from my pen.

I write about joys and blessings:
About walking on the white sand behind our house.
I write about miracles big and small:
About waking up in the morning
after a restful night ... without pain in my joints.

I write about challenges lost and won:
About nursing back to health
neglected bromiliads in the backyard.

I write about the beauty that surrounds me:
About Mount Ha`upu in the eastern distance ...
About the Pacific Ocean splashing on the rocks,
washing Prince Kuhio Beach
in full view from our backyard.
I write about lessons learned and remembered:
About saying I'M SORRY and THANK YOU.
I write about events that have touched my life:
About family and friends who have surrounded me with love:
Six generations of family ...
friends from grade school ... high school ... college ...
neighbors past and present ...
visitors to Kaua`i who pass our home at Po`ipu
and who stop to visit as I weed the front yard.
I write about positive influences in my life:
About grandparents who taught by example
with their hard work and honest labor.
Mom taught my sisters and me
trustworthiness and honesty without saying a word.
I remember as a child the coins
on a shelf in the living room,
which my sisters and I never touched,
except for that one instance when a younger sister gave to temptation.
I believe Mom and the rest of the family
would not have known,
but little sister confessed with
MOMMY, I DID NOT TAKE THE NICKEL!
I remember Grandpa Victoriano reading the Bible
and attending church services regularly.
He told "Aesop Fables" to his grandchildren
and impressed upon us the lifetime lesson taught by
THE HARE AND THE TORTOISE:
YOU SNOOZE, YOU LOSE!
And how can I forget that as an eight-year-old,
I was awake the night Dad left our hometown
to take the boat to a faraway land called HAWAII!
Daddy give me five ten-centavo coins ...
one each for my four sisters and me.
They were all fast asleep, but I was most certainly awake
the night Daddy left our home in the Philippines
in search of a better life for his family.
In the morning, my sisters and I
dropped our coins in our piggy banks.
I write about negative events that stop progress ...
about leaders who take us to right paths ...
about drummers who take us elsewhere ....
Filling my pen with the ink of imagination and reality
I write boldly upon the page whatever flows from my pen ...
And I always give thanks.
(9/24/04, 9/7/06, 11/17/07)
FLYING

For Dawn

Poetry is the journal
of a sea animal living on land,
wanting to fly in the air.
Carl Sandburg
Miss Cruces lightens language and literature
for the ten-year-old budding English speakers
at Laoag Central School
to whom the American language
has been a three-year challenge.

Her passion for teaching is legendary
and diagramming sentences is her favorite way
of teaching the parts of speech.

Years from now you will look back to these lessons and smile,
she would tease the young scholars she is endeavoring to pilot
and to teach the art of flying with paper and pen.

Listening to the lucid explanations of Miss Cruces
is like looking through lavender-colored glass --
lightly tinted but enlightening and compelling.

She gives wings to one's imagination.
The mind soars and lingers on lofty towers.
The soul ascends to liberating heights,
resting long on peaceful mountain peaks.

Wanting to fly
and learning how with luscious grace
make the poetic difference.
(Feb. 2004)
From an exercise on L words
at the February 5 meeting
of Poets Without Borders
GIAC Gallery : Harbor Mall
Lihue, Kauai, Hawaii
* * * * * * *
Laoag Plaza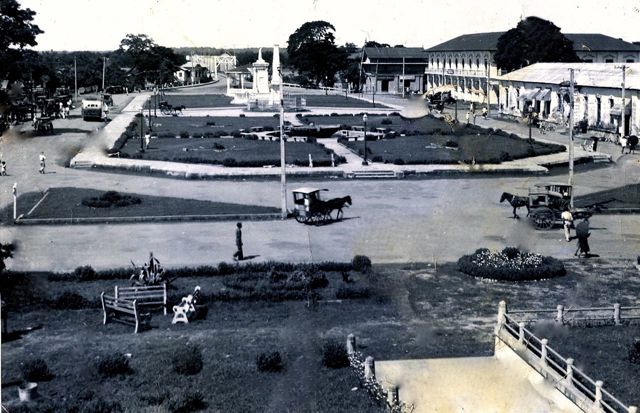 October 20, 1948 | Pascual Family Album
Laoag Plaza: At the foreground is the approach to the steps of the Capitol. The
two story-building on the right was the Municipal Building, where the post office was
located on the ground floor. On the second floor was the Mayor's Office, which Eulalio Siazon occupied for many, many years.
Mayor Siazon's daughter Rosario and I were good friends. While attending Central School, which was about two blocks away, we frequented the
Mayor's Office at recess to ask the mayor for two nickels for ice cream cones!
Those were fun days at Central School!
The prison was located at the rear of the one-story building on the right.
With the exception of those who may have known someone who was
incarcerated, the place was unnoticed.
To the right of the building was another building which was an annex to
Central School until it housed the United States Information Service (USIS) Library,
which my friends and I frequented.
At the far end of the picture is the Gilbert Bridge, which spans Padsan River, also
known as Laoag River; thus, the bridge is more commonly called Laoag Bridge.
The Plaza Lunch, my parents' restaurant, was on the street to the left of the bus in
the picture.
The Laoag Public Library was at the far end of the three buildings,
located on the street corner across the post office.
Between the bridge and the two monuments was a gazebo, the venue of many
public events. I remember when part of the Ilocos Norte High School Girls
Scout Drum and Bugle Corps performed at the gazebo when I was a sophomore at
Locos Norte High School. I played a snarl drum when the Girl Scouts marched at parades, but I played the base drum at the gazebo. -- Jan. 15, 2014.



THIS SPECIAL PLACE
By Catherine Pascual Lo
Koloa, Kauai, Hawaii
(1955 INNHS Honorary Graduate)
Laoag.
Ilocos Norte National High School.
The Class of 1955.
A trinity ordained by Heaven
which history will uphold eternally.

Laoag, the town of light:
The center of commerce in Ilocandia,
a town that has grown brighter
with the glitter of gold and silver,
now a city of light.

Ilocos Norte National High School:
The pride of the province that wisdom
willed in Nineteen-hundred-six
to become the beacon of education
in Luzon's northern climes.

The Class of 1955:
It is July 1951 and 470-plus of us,
eager to learn and to achieve,
enter the inviting portals
of Ilocos Norte High School
and usher in the school's Golden Jubilee,
as the moon and the stars ordained.

Today, we return to this special place
in body and spirit from across the years.
We return to this special place
in body and spirit from far and near.

We find hope in our homecoming.
We find camaraderie in our celebration.
Today, we remember the past.
We remember our humble beginnings.
We remember our youth in a land
recovering from the ravages of war.

We remember four years of listening
to lectures of thoughtful teachers,
following the guidance of caring counselors,
studying with disciplined classmates
at Ilocos Norte National High School.

Today, we come together to celebrate the present.
We come to rejoice with one another.
We come to share our success and happiness.
We come to validate the blessings and joys of life.
We come to validate the value of education.
We come to say THANK YOU to Laoag City,
to Ilocos Norte National High School,
to teachers and classmates.
We come to honor classmates and teachers
who have moved on to the world beyond.
Together we praise and thank God
for His mercy and grace.

The Class of 1955,
with its distinction as the largest class --
471 graduates, lest we forget --
celebrates its Golden Jubilee in style
and ushers in the Centennial
of Ilocos Norte National High School.

When the 8th, 9th, and 10th
of April 2005 fold into history,
the Class of 1955 departs once more.
We depart with praise and thanksgiving
and return to the comfort
of our chosen circumstances.
We return to complete unfinished work.
We return to our communities
and continue to make a difference.

We depart anew from this special place
to face our maturing years with clear vision.
We depart from this Golden Jubilee
blessed by the renewal of friendships,
and energized to embrace the future.

Meanwhile, we enjoy the magic of the moment
at this special place.
(2005)

Note: "This Special Place" was written for the reunion in response to the suggestion and request by Romelia Regidor, a good friend in high school. She is now Mrs. Alfonso Legaspi of Oxnard, CA. The poem was published in Ilocos Norte High School Class of 1955: Golden Jubilee and Class Reunion Souvenir Program. Laoag City, Philippines: Ilocos Norte National High School, April 2005. 198p.
The piece was read at the Opening Homecoming Program on April 9, 2005, by classmate Maria Santos of San Nicolas, Ilocos Norte.


THE LAOAG RIVER
Deep and wide the river flows freely.
Silently unto Luzon Sea.
With some encouragement from the rain
it often overflows its northern bank.

Suddenly, so it seems, the riverbed dries up
and the flowing river shrinks
to one-third its original size.

The northern side now a sandy shore
and the mid-section a bed of stones.
Strangely, the part of the river that still flows
is the side far from the dike.

Like the river the mind dries up
and ideas flow on either the left side
or the right
and the middle brain an arid area
where ideas no longer flow freely.

Strangely, seriousness and humor
both float out often
flowing freely like the river of my childhood
that remains with me.
(3.2.04)

A Poets Without Borders exercise on birthplace poems.



DR. STARY IS A WISE WOMAN
Dr. Stary is a wise woman.
The psychology professor and counselor
At Thiel College (The H is silent, please)
In Greenville, Pennsylvania,
Dr. Stary puts a memo in my mail box
At the start of my sophomore year.
FOLLOW-UP
VOCATIONAL GUIDANCE TEST
Are checked on the form.

The test shows you are highly verbal,
Dr. Stary greets me.
According to your scores you could be
A writer, a secretary, or a librarian.

Secretary? Librarian? I ask myself.
I listen ... I nod ...
Not necessarily in assent.
My verbal ability failing me
For more than just a few moments.

How do you like working at the library?
She asks. I like it very much, I reply.
Dr. Stary leans to the side of her desk
Toward me, her body language and voice
That of one who has three offers
And is focusing on the last.
Have you ever thought of library science?
I love books and all that, I manage to say,
But I never thought of becoming a librarian;
I've always wanted to be a journalist
And dream of working for a newspaper.

Continue with English as your major,
Get your BA, then go to graduate school
For a Master in Library Science.

Use the world of books as a steppingstone
To a career in writing, perhaps journalism,
Georgianne Stary, Ph.D., impresses upon me.

Yes, Dr. Stary is a wise woman.
Librarianship is meant to be
Only a steppingstone for me.
I stay on the steppingstone,
And stay permanently
Until retirement dislodges me.

In retrospect I now see the significance
Of that Saturday morning discovery
At a small library many, many years ago
In the town of Laoag, Province of Ilocos Norte,
In northern Luzon, Philippines, where I was born.

As a fourth-grader I discovered
The secret of that cryptic card catalog
And found Stevenson's "Treasure Island"
And Spyri's "Heidi Grows Up"
Without the help of the male librarian.

Who would have imagined
That a dozen years later
In the City of Seattle, USA, I would receive
A degree that would make me
The librarian I was meant to be?

Yes, Dr. Stary is a wise woman
And Mrs. Alter is a blessing to me.
She gives me an A for my Social Studies
Outline for the Study of Journalism
But writes "For you its greatest disadvantage
Is that it will require constant use of a language
Which is not your native tongue."
And Mrs. Alter changes my plans.
(1984/2002)



THERE ARE NO POINSETTIAS IN THE PHILIPPINES
There are no poinsettias in the Philippines
And no hollies or mistletoes;
Christmas is a time of paper lanterns --
Star lanterns with five points,
And stars with six or sixteen points,
Shining brightly outside the windows.

It was February when we arrived in Hawaii,
And I was a teenager
Uninterested in the remnants of Christmas.
I hardly noticed the faded poinsettias
And I never bothered to ask
What pale pink flowers fenced the yard.

At Thanksgiving time --
Our first turkey experience --
I selected the showy poinsettias
For the table centerpiece,
Their commanding red blossoms
Fully complementing the big bird.

Poinsettias, I was told,
Are not for Thanksgiving.
How was I to know?
There are no poinsettias in the Philippines,
And flowers are preferred
Left blooming in the garden.
(1979)

Published in BAMBOO RIDGE
(The Hawaii Writers' Quarterly)
No. 24, Fall 1984
Postcript: In the Fall of 1984, at a poetry reading at Kauai Community College
sponsored by "Bamboo Ridge," a friend who was in the audience informed me that he saw poinsettias when he visited the Philippines. So I stand corrected, but I don't remember seeing poinsettias where I grew up, and I thought that that was true for the entire country.
In 2009, as part of the "The Many Meanings of Christmas" reading program, "There Are No Poinsettias in the Philippines" was read by Amalia Bueno on "Aloha Shorts," the weekly half-hour radio show co-produced by Hawaii Public Radio and "Bamboo Ridge" featuring readings of Hawaii's literature by Hawaii's actors. The reading on Oct. 4 was at Atherton Performing Arts Studio with a live audience and the broadcast on Hawaii Public Radio was in mid-December.
Of course, I was quick to inform Aloha Shorts when the producers asked my permission for them to use the poem that after the poem was published I learned that there are poinsettias in the Philippines! -- Catherine Lo