View of a February Sunset from the Backyard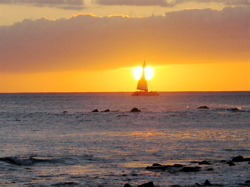 Karl Lo Photo



THE WHITE ROSE
All right. The rose is standing
stately in the tall bud vase,
gracing the room
with welcoming white.

I look out beyond the landscape
and allow my soul to listen
to the music of the Pacific Ocean
hoping for divine inspiration.

Listening, my soul hears
and responds with aloha.
My soul, as always,
moves me to action.
I settle myself in the patio chair
and continue the half-finished
drawings of growing grass
that reflect my thrifty talents.

Now to render the white rose
on canvas
in mahalo
to the good and gracious people
around me.
(11/11/04)
A Poet Without Borders exercise
using ocean, thrifty, drawings, landslide,
chair, respond, open, half, white rose, grass,
mahalo, always, aloha, music, soul.



A BIN LADEN WITH EVIL

You are the twin of the devil!
Your heart is a bin laden with evil!
Oh, that I could clean up your heart!
Scrape off the muddy lump that weighs
Your heart down into the gutter!
 
You hide behind that bushy beard
To cover the mean muscles of your face!
Surely there are muscles in your heart
That pump morality and decency.
Surely there are chords in your heart
That produce acceptance and tolerance.
 
You have deliberately caused pain
And great harm to many nations.
But good will emerge from the ashes
At Ground Zero and from the suffering
That your evil deed has inflicted.
O shame on you, Osama bin Laden!
You bin laden with evil
(Feb. 2002)
An exercise in Beat Spirit at the February 2002 meeting of the Kauai Poetry Circle, which met monthly at Borders Books & Music/Lihue, Kauai, for several years. The group started meeting at Harbor Mall in Nawiliwili in January 2004 as Poets Without Borders under the sponsorship of the Garden Island Arts Council.
POETS WITHOUT BORDERS
In Memory of Martin Luther King Jr.
Free at last! Free at last!
Thank our Marvelous Muse
We are free at last!

Home at last! Home at last!
The Garden Island Arts Council
Is home at Harbor Mall at last!

Poets Without Borders
Celebrate present joys,
Forget past pains,
And share common aspirations.

Free at last! Home at last!
Thank our Marvelous Muse
We are free and home at last!

And it seems so proper
That as I pen these points
The Hawaiian sun is gloriously shining
And suddenly rain flows for five meaningful minutes
Creating a seven-colored arc that lights up the western sky.
(Jan. 19, 2004)



AN ODE TO A LIBRARIAN
(One Word: Part III)
Once upon a time, a librarian was single and spectacled,
married to her job forever.
Known to neatly pile her hair in a bun on her thoughtful head,
seriousness defined her days in and out of work.

Today, a librarian may be spectacled or
enjoying magnified vision through contact lenses,
and her hair may be cut short,
or coiffured to showcase the latest hair style.
And in all likelihood, a husband or a sweetheart enriches her life.

Then and now, a librarian, hard-working, proficient, and organized,
puts her whole mind and heart into her work,
which she always finds interesting and challenging.

A people-lover in the welcoming and warm world of books, magazines,
newspapers, computers, videotapes, DVDs, and other media materials,
positive energy and a giving attitude lead a wise librarian
into refined relationships with library friends and acquaintances.

Intuitive and philosophical, a librarian will sacrifice for the greater good.
She likes people and is always conscious of the needs
of the children, young people, and adults she tries to serve.

A room with shelves filled with books,
brilliant with the wisdom of the ages,
is her favorite space.

Always willing to learn,
she is much-traveled through the books she reads and catalogs.

Library science is not a term that a librarian takes lightly.
Precision is a working word in technical services and reference work.
And the administration of a library matters without debate.
Perfectionist is a tired term.
Excellence is a librarian's focus.
(2.07.06)

ONE WORD: PARTS I & II

AN ODE TO A LIBRARIAN above is Part III of a Poets Without Borders exercise. Part I: Send ONE WORD. Part II: List the words, with the last word being the poet's ONE WORD. Part III: Write AN ODE TO MYSELF from the words.

ONE WORD GAME

Wise (Michaella)
Refined (Rocky)
Intuitive (Vicki)
Brilliant (Jean)
Focused (Catherine)

Failing to receive enough ONE WORDS, I tapped another source.

From Schools Without Failure Seminar: Last Day Peer Evaluation (Anonymous Peers)

One word lines:
Peer 1. interesting, people-lover, warm, proficient
Peer 2. philosophical, thoughtful
Peer 3. organized, hard-worker, much-traveled, perfectionist
Peer 4. precise, positive

More than one word lines:
Peer 3. willing to learn, likes people, puts whole mind and heart in job
Peer 4. conscious of others, likes people, giving attitude, will sacrifice for overall good

EULOGY: "Professionalism and Heart"
CATHERINE PASCUAL LO'S life was an open book with a table of contents and an index. In a capsule, her life was like a coin -- it had two sides. The obverse was librarianship; the reverse, poetry. As a working librarian, she read by day and wrote by night. In retirement, she wrote by day and read by night.
The English language, which was a second language to Catherine, was a puzzle and a challenge, and writing poetry was for her an enjoyable way through the English language maze where she often found herself. And when she got lost in the maze, she called on the experts to help her by reading the books that surrounded her.
Catherine was poised to enter journalism, but her social studies teacher, Mrs. Alter, changed her plans. Spiritual, idealistic, and inspired, she answered the call to young people to consider full-time church service during her three years at Thiel College, a liberal arts church college in Greenville, Pennsylvania, where she had full scholarship. However, when reality set in, she decided on library science, thinking that librarianship would be a steppingstone to a career in writing.
Catherine earned a Master of Librarianship from the University of Washington after completing her senior year at the University of Hawaii at Manoa, where she received a Bachelor of Arts in English. She looked upon libraries as romantic places, with librarians playing Cupid, bringing readers and books together in special and meaningful relationships. Librarianship was challenging and fulfilling to Catherine, and she never gave another thought to returning to journalism. She joked about getting stuck on the steppingstone until retirement dislodged her. However, she continued writing, especially poetry, through the years.
When Catherine Lo retired as head librarian of Kauai Community College after 18 years of service to the college, the faculty and students produced a 9-page newsletter in her honor. In his "Salute to Catherine Lo," Dana Bekeart, professor in philosophy and religion wrote:
"Catherine Lo represents, to me, two complementary qualities: professionalism and heart. Her professional side shows itself in her expertise in library operations, her authority on a wide range of library resources (just ask her!), and in her veteran's advancement of education through all forms of media."
"Catherine's heart shows itself in her cheerfulness and sociability, in her love of poetry, but especially in the fact that she has always made student needs her topmost priority. I believe that everything she's done here has been directed toward providing the highest quality of service to whoever walks in the front door (of the college library) along with a special and enduring attention to the many students who have discovered the real joys of library life. It is a pleasure to know someone who has been able to harmonize two such virtues into a single life of service."
Catherine Lo often quoted St. Paul's " … I have learned in whatever state I am, to be content." (Philippians 4:11/TNKJV). She was content on earth. We know she is now content in heaven.
Poets Without Borders : 3rd Thursday assignment : for Oct. 21, 2004



LIGHT AND DARK
Light. Dark.
Hum is light. Masturbate is dark.
Flicker is light. Ejaculate is dark.

Not knowing the words of the song
we hum along and try to stay in tune.
The effort may be only a flicker.

But the flicker may turn into a blaze ...
Who knows? A hum ... a flicker ... a blaze ...
that may light one's path.

Light. Dark.
Humble is light. Bicker is dark.
Invigorate is light. Agitate is dark.

Whenever the dark and I meet, we glare at each other.
Dark nags me to flashes of anger!
I wish for an airbrush that transforms dark into light!

No, I do not wish for the world to stand still.
But I pray that those with constipated preoccupation with the dark
move on toward the light.
(2005)
A Poets Without Borders exercise using the following words: blaze, insinuate, flicker, humble, bicker, stand, still, invigorate, startle, masturbate, constipate, agitate, ejaculate, chop, hum, strip.


LO . . . BEHOLD!
Poets and artists on the Garden Island
Create unconstrained by borders,
Except the blue waters of the Pacific Ocean
Which the heart . . . soul . . . and mind transcend.
 
Take Tashi at the Monday Open Mike:
The poetry circle spotlight
At the dimly lit GIAC Gallery at Harbor Mall
Were on Tara, Joseph, and Michaella
That 2nd of August 2004 evening
And others who hoped to be heard
Seized the mike at every opportunity.
Photo : Tashi | August 2004
One has faith that Tashi had the purest of intentions
When she created her silvery composition --
An illuminating visual rendition 
That reveals more than Tashi conceals:
A lavender moment
That calls to mind the exact opposite
Of a childhood cliché -- be seen but not heard.
 
Viewers may not see the face,
But tuned in, they receive the message.
It is not unlike listening to radio:
One does not see the face
But one hears the voice
And tuned in receives the message.
(August 14, 2004)