Karl H. Y. Lo | March 18, 2011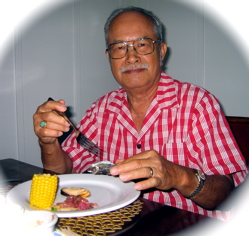 Catherine Lo Photo
Bio in Brief
KARL HUNG YING LO credits the United States Coast Guard in saving him from himself and from paradisiacal paralysis. He wore the Coast Guard uniform for 20 years and three months. After retiring at the age of 38-1/2, he earned two AS degrees from Kaua'i Community College: carpentry (December 1977) and automotive mechanics technology (May 1980). He subsequently enrolled in the liberal arts program and had only three credits in one subject to complete when the appeal to earn an AA degree paled compared to enjoying the joys of retirement.
Karl Lo is the eldest son of So May Lo, who was with Bishop Bank/First Hawaiian Bank for 36 years, and Ah Heong Lo, who taught at Koloa School for 25 years. His grandfather, the Reverend Yuet Fu Lo, came to Hawai'i in April 1909, and was the last of the Chinese ministers from Canton brought by the Congregational Church to minister among the Chinese immigrants in Hawai'i. After two years in Honolulu, he was sent to Hilo Chinese Church where he served for two years. He was subsequently called to minister among the Chinese on Kaua'i, first in Hanapepe and Waimea in 1914, and to Hanalei where there was a larger Chinese Community in 1919. In 1923 the Congregational Church sent him to Wailuku, Maui, where he served until 1938 when he retired and moved to Honolulu where he established permanent residence for himself and his family.
Karl Lo was born in Makaweli, Kaua'i, grew up in Po'ipu and graduated from Kaua'i High School. During his years in the Coast Guard, he served at LORAN (Long Range Navigation) stations, and on ships, icebreakers and tugboats. His service in the Coast Guard gave him the opportunity to see Alaska, California, Washington, Michigan, New York, Okinawa, Japan, Italy, Canada, Cuba, Virgin Islands and Puerto Rico. When Karl retired, he and his wife Catherine returned to Kaua'i and made their home in Po'ipu.
The Joys of Retirement
Growing up near the ocean, fishing and swimming were Karl's favorite pastimes. That was true the first decade of his retirement. Today, however, the call of the ocean is muffled by the sound of the table saw and belt sander emanating from his workshop -- the Lo Family's old garage with connecting tool room and washroom, the only structure on the property that survived Hurricane 'Iniki on September 11, 1992.
Karl spends considerable time in his workshop -- (aka "Studio," a term that artist friend Helen Mehl named it in 2000 -- always busy on a varying assortment of craft projects big and small -- stained glass, wood, cane, metal, etc.
Woodworking and photography are key hobbies. Karl discovered his love for wood in David Isoda's woodworking class at Koloa School, and he has been tinkering with wood ever since. His interest in photography started after he enlisted in the United States Coast Guard and finally could afford to buy a camera.
Through the years, Karl kept albums of photos he took during his tours of duty in the Coast Guard. In retirement, he takes pleasure in taking pictures of flowers, birds, sites, events, etc. at every opportunity. When the Hanama'ulu Town Celebration website was created in May 2004, it was inevitable that Catherine, the webmaster, would ask him to give photographic assistance to the project. Today, he continues to serve as photographer for the celebration website and the Hanama'ulu Community Association website as well. Also, his photographs grace the pages of Catherine's Poems Without Borders website.
Karl Lo is an avid reader of Hawaiian history, World War II and some fiction. He has been a member of Kaua'i Historical Society since 1974 and of the Friends of Koloa Library since 1984. He is also an active volunteer of Malama Maha'ulepu.
Moreover, Karl loves sports. He like the Dallas Cowboys and is a disappointed fan of
the UH football team. In terms of baseball, he is a devout fan of the Los Angeles Dodgers and has been from the team's years as the Brooklyn Dodgers. Also, he cheers the Rainbow Wahine volleyball team on to victory over the radio and when they are live on television.
Career in the U. S. Coast Guard: A Chronology
In late December 1952, Karl Lo made that fateful trip to San Island to enlist in the United States Coast Guard. Twelve enrollees flew from Hickam Air Force Base in early January 1953 landing at Travis Air Force Base after nine-plus hours in the air. After three months at boot camp in Alameda, CA, Lo was assigned to the CGCutter Northwind, which was based in Seattle. During his 11 months on the cutter, the Northwind made two icebreaking patrols around Alaska that included stops at Nome and icebreaking in waters near Barrow. After experiencing deck work, icebreaking, and rescue work during the first patrol, seaman Lo opted to go down to the engine room, which was noisy but a warmer place, thereby becoming a fireman apprentice.
BELOW, LEFT:
A helicopter crashed off Barter Island, Alaska, on August 26, 1953. After the deck crew of the
Northwind
rescued the helicopter crew, the machine was brought up on the flight deck of the cutter.
August 26, 1953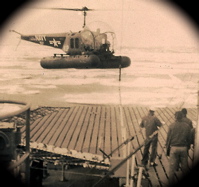 "Northwind" rescue operation
Seaman Lo on watch at the "Flying Bridge"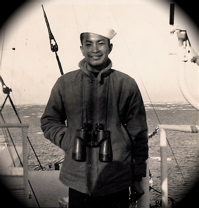 of the "Northwind" | July 31, 1953
After the last patrol on the Northwind, some of the Coast Guardsmen aboard from Hawai'i, including Lo, transferred to the cutter Bering Straits, which was sailing from Seattle to its new port assignment: Honolulu. Lo spent two years on the cutter and went on many patrols to Ocean Station Victor, an area in the Pacific Ocean between Hawai'i and Japan. The cutter also made stops at Yokosuka, Japan.
Lo got off the Bering Straits as Engineman Third Class and was assigned to CGC83452 at Newport Beach, CA, where many of the rich and famous had boats!
In December 1956, after four years of service, Lo left the Coast Guard and returned to Hawai'i with plans to enroll at the University of Hawai'i at Manoa. But attending the university did not appeal to him, so after three months of inertia, he reinlisted in the Coast Guard as Engineman Third Class and was sent to LORAN Station Ichi (Ike) Banare, an island off Okinawa, where he enjoyed 18 months of duty. It was at Ichi Banare on May 16, 1968 that Lo was promoted to Engineman Second Class. Today, Lo often revisits his experiences in Okinawa!
LORAN Ichi (Ike) Banare, Okinawa, Ryukyu Islands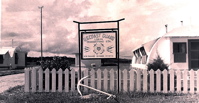 Karl's station April 1957 to Sept. 1968
Karl Lo, much to his delight, was transferred to CGC 83482, based at Nawiliwili, Kaua'i, Hawai'i, about 15 miles from the Lo Family home in Po'ipu. With the decommissioning of the cutter, another cutter, CGC 83394, was sent to Nawiliwili, but that cutter was also decommissioned a year later. One notable experience on the cutter for Lo was Hurricane Dot, which passed over Kaua'i on August 8, 1959.




As the saying goes, after the storm comes the calm! Karl Lo was assigned to LORAN

Station Kaua'i at Makahuena Point in Po'ipu where he stayed from 1959 to 1963 as Engineman First Class.




In December 1962, Karl and a Coast Guard friend, Columbus (Chris) G. Aragon, double dated with Rosalina Arzadon and her friend, one Catherine Pascual. After dinner, the two couples attended the Kaua'i Community Players' production of Three Blind Mice at the Lihu'e Parish Hall. And to think that it was a blind date for Karl and Catherine! As the saying goes, the rest is history! Visit the Love page of this website: Poems Without Borders -- and read about their courtship in "If You Must Have An Answer" and "Love In Four Stanzas."




In the summer of 1963, Lo was assigned to CGC Planetree based in Honolulu. It was not in the plans, but as the stars and the moon ordained, Karl and Catherine got engaged before Karl got on the Plantetree, which was deployed to Western Pacific for six months, with stops at Truk, Palau, Saipan, Majuro, Guam -- to mention a few. The ship included a stop at Karl Lo's old LORAN Station in Okinawa, but he was on duty and, alas, could not get off the ship!




The CGC Planetree, sailed to Yokosuka, Japan, for repair and R&R. On the way, the cutter stopped at islands of the Pacific where WWII was fought. Lo and his shipmates visited with keen interest WWII sites and saw the damages caused by both American and Japanese forces. In January 1964 -- while still on the Planetree -- Lo took a two-week leave to get married, and honeymooned on Maui for one week. The day after he reported back to the ship from his leave, the ship departed for a month of buoy tending in the Northwestern Hawaiian Islands.
The ship returned to Honolulu in the spring of l964, and Lo stayed aboard until August, when he was assigned to the 9th Coast Guard District in Michigan. Lo reported to the CGC Naugatuck based at Sault Ste. Marie, Michigan, on that Friday afternoon after finding a comfortable and relatively new one-bedroom apartment on the 2nd floor of a business building on Ashmun Street, Sault Ste. Marie's main street, two blocks from the CG station. The next day, which was a Saturday, the tugboat departed for Manitowoc, Wisconsin, for one month of dry dock ship repair.
CPO Karl H. Y. Lo | Sept. 3, 1966
526 Cedar St., Sault Ste. Marie, MI
When Karl finally returned from Manitowoc, Catherine had already moved their few belongings to another apartment in a well-established and good neighborhood, which was also within walking distance from the CG base. Catherine walked to a Lutheran Church a few blocks from Ashmun Street that first Sunday in Sault Ste. Marie, and she met the family they lived with the next two years. Retired Coast Guard Engineman Chief Clayton Gustafson and his family owned a three-story house at 526 Cedar Street, the same street where the editor of "The Evening News" – the Soo's daily newspaper -- and his family lived. Karl and Catherine lived on the second floor where they had one bedroom, living room, kitchen and a bathroom. The Gustafsons' daughter Judy lived on the third floor. As the stars and the moon ordained – again! – Catherine walked into a library position that memorable Monday morning at Sault Ste. Marie. The Sault Ste. Marie Public Library, in a Carnegie building, was a block from their apartment, and two blocks from the CG station. Catherine served as assistant director of the Upper Peninsula Library System and enjoyed setting up book stations in eastern Upper Peninsula, training volunteer staffs, and visiting the stations regularly the two years the Los lived at the Soo. Catherine also served as children's librarian at the public library.




During the cold winter months, Karl went ice fishing on St. Mary's River with his Coast Guard friends, spent his free time reading at the Soo library, or looking through rolls of coins that he bought at the bank and exchanged for more on his next visit in search of coins to collect. Exploring Ashmun Street one gorgeous day that first winter at the Soo, he met William Ranta, who owned a coin shop on Ashmun St. Bill, Shirley, and their family lived at 436 Cedar St., and they were good neighbors who became good friends. Bill introduced Karl to the Soo coin club with members from both Soos. The club met regularly at both sides of the St. Mary's River, and the meetings at Soo, Canada, gave Karl and Catherine opportunities to visit the area often.




In March 1965, after saving $2,700.00, Karl and Catherine bought their first car -- a Volkswagen Fastback with whitewall Michelin radial tires and radio. Until then, they walked to wherever they had to go. Also, Juanita (Nita) Gustafson, the Los' landlady, offered Catherine rides to Kincheloe Air Force Base, 20 miles southwest of the Soo, when she went shopping at the base exchange and commissary. And with Karl being away from home often, Catherine welcomed those shopping trips with Nita, which continued until they left Sault Ste. Marie.




In addition to ice breaking in Michigan waters, the Naugutuck replenished light stations on Lake Superior. The tugboat was on Lake Superior when Karl received orders of his transfer to a Mediterranean station. To Catherine's delight, Karl was assigned to Italy! It could have been Turkey or Spain.
USCG Transmitting Station, Nov.1966 - Oct.1968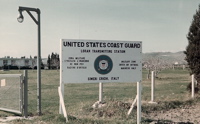 Simeri Crichi, Italy
Lo was promoted to Chief Engineman on the Naugutuck. As a condition of his new assignment in Italy where he would be the engineman in charge of the engine room and generators at the LORAN Station, Lo had to take a two-month course in air conditioning and refrigeration at the Naval Station in Norfolk, VA. So September and October 1966 were study months for both Karl and Catherine. While Karl was in the classroom and on-the-job-training from Monday to Friday at Norfolk Naval Base, Catherine was at their one-bedroom apartment (Tapley Court Apt. 3A) at 1301 West Little Creek Road, focused on a book on conversational Italian. The apartment was a short distance from the base and was conveniently located for grocery, other shopping and for dining out. The apartment complex was owned by a veterinarian, who maintained a pet clinic a short distance from the well-maintained complex. When Karl and Catherine landed in Rome in November 1966, Catherine was glad that the taxi driver could understand her Italian.
From November 1966 to October 1968, Karl Lo was stationed at Coast Guard LORAN C Station in Simeri Crichi (Sellia Marina), which was part of NATO. The station was 200 miles south of Naples and located near Catanzaro, a town of 80,000 with only a handful speaking English! Life at Catanzaro Lido, on the shores of the Ionian Sea, was like living in Hawai'i with a beachfront property! Karl and Catherine visited the countryside, got acquainted and made friends with the local folks, learned to eat a lot of pasta and other local cuisine, and got a good introduction from friends to local wine, which often turned to vinegar! The greatest joy was settling down in a brand new apartment at Catanzaro Lido within walking distance from stores, bakeries, and restaurants, and having friendly neighbors.
CPO Karl H. Y. Lo | Feb. 23, 1968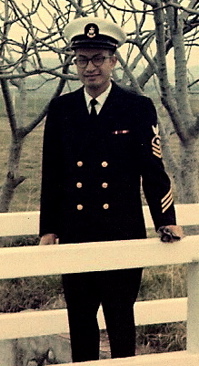 Simeri Crichi, Italy, LORAN Transmitting Station
In November 1968, Lo was transferred to the CGC Linden based in Governors Island, New York, where he stayed until the cutter was decommissioned, about a year after he got on board.
Then on to the training station for the Coast Guard Reserves at Staten Island. After two years, Lo was promoted to Engineman Senior Chief and was promptly assigned to the USCGC Morgenthau (WHEC 722), a 378-foot cutter that was commissioned on March 10, 1969, and was deployed to Vietnam, returning shortly before Lo got on board.
Governors Island was home to the Los for four years and five months. Wall Street in lower Manhattan was a short ferry ride away. And Broadway shows in midtown were a few minutes away from lower Manhattan by bus or subway. They often enjoyed shows at Radio City. Among other delights, they could see the Statue of Liberty from their kitchen window! Those years were a historical, cultural, and discovery tour of duty! A great finale to Karl Lo's career in the United States Coast Guard!
On April Fool's Day 1973, after 20 years and 3 months of service, Karl Lo bid the U. S. Coast Guard ALOHA. He and Catherine traveled in their Volkswagen Fastback from Governors Island to San Jose, CA, with stops in New York, Pennsylvania, Ohio, Indiana, Kentucky, Missouri, Kansas, Colorado, New Mexico, Arizona, Nevada, and California, arriving in San Jose to visit family after 30 days on the road! And, yes, their car was the same beige Volkswagen Fastback they bought in Michigan, drove to Virginia, shipped to Italy, and drove around Sicily and up and down Italy and as far north as neighboring Locarno and Lugano, Switzerland!
CGC Morgenthau: "SITREP THREE" cover, Feb. 1973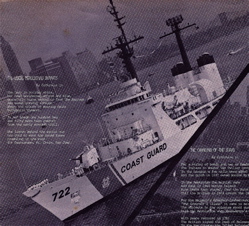 Background: Lower Manhattan & Brooklyn Bridge
THE USCG CUTTER MORGENTHAU DEPARTS