It All Began With Mother Goose . . .

"Taught or untaught,
we all scribble poetry."
--Horace (65 - 8 B.C.)
"Ars Poetica"


"I have said that poetry
is the spontaneous overflow
of powerful feelings:
it takes its origin from
emotion recollected in tranquility."
--William Wordsworth (1770-1850)
"Lyrical Ballads" (Preface)
Catherine Pascual Lo | June 2004
Photo : Karl Lo
I'M A CRACKED POT! WHAT ARE YOU?
(An Ode to Imperfect Vessels)

I'm a cracked pot! What are you?
Are you a cracked pot, too?
There are more of us, I'm sure,
From the West Side to the East Shore.

What fun to be a cracked pot!
How liberating! How cool!
We don't ever have to pretend
At perfection and all that!
(2000)

Poetry & Catherine Lo
CATHERINE PASCUAL LO'S love for poetry began with Mother Goose! And her fourth-grade teacher at Laoag Central School, Philippines, Miss Brigida Cruces, who also served as school librarian, opened the world of books and poetry to her. Miss Cruces also taught her students penmanship, and Catherine started scribbling poetry to practice callligraphy. None of those first attempts remain. However, some of her early poems and prose were published in the newspapers of Ilocos Norte High School, Philippines, and Kauai High School, Hawaii. She has continued writing for the joy of it, and her poems, essays, and articles have appeared in a variety of publications.
Education
BORN IN LAOAG, ILOCOS NORTE, Philippines, Catherine Lo came to Hawaii with her family when she was 16 years old and graduated from Kauai High School.

She attended Thiel College, a Lutheran-Church-affiliated liberal arts college on full scholarship, but after three years of cold and snow in Greenville, Pennsylvania, she returned to balmy Hawaii and finished her senior year at the University of Hawaii at Manoa, where she received a Bachelor of Arts in English.

EMPOWERED BY SCHOLARSHIPS from the Friends of the Library of Hawaii and Hawaii Community Foundation, Catherine earned a Master of Librarianship from the University of Washington, Seattle.
Profession
AFTER COMPLETING GRADUATE WORK, Catherine returned to Hawaii to meet the service requirements of her scholarship grants, and she worked at the Library of Hawaii in Honolulu as a catalog librarian for one year before assuming the position as bookmobile librarian at the Kauai Public Library. She was subsequently promoted to catalog librarian, a position she filled with passion, but marriage to Karl Lo, whose career was with the United States Coast Guard, ended her work on the island she loved, and she dutifully moved with her husband to Sault Ste. Marie, Michigan.

During their two-year-stay in Michigan's cold upper peninsula, Catherine served as assistant director of the Eastern Upper Peninsula Library System (EUPLS) and set up book stations in areas that did not have library service. She also served as children's librarian at Sault Ste. Marie Public Library, where the EUPLS was headquartered. One aspect of her work at "The Soo" that she enjoyed beyond words was writing a weekly column -- "Notes on Books" -- for THE EVENING NEWS, Sault Ste. Marie's daily paper.

AFTER LIVING IN MICHIGAN for two years, Italy for two years, and New York for four-and-a-half years, and with Karl retired from the Coast Guard, the Los returned to the island they love and settled in Po`ipu in the South Shore of Kaua`i, where Karl grew up.

THE YEAR WAS 1973, and the State of Hawaii was in sad financial state. State jobs were frozen following retirements and deaths. Catherine wanted to return to the Kauai Public Library, but the reference librarian position she could have filled was frozen in April.

FORTUNATELY, Serendipity once again took Catherine by the hand and led her to the Kauai District Office of the Department of Eduction that late Thursday afternoon in early September to file her application for substitute teaching. To her surprise, the principal of Waimea School (now Waimea Canyon School) called her at 9 o'clock the following morning, and offered her the position of librarian for the 1973-1974 school year. Her job description included planning and coordinating the move of the library collection from temporary headquarters to a new facility.

CATHERINE LO JOINED the staff of Kauai Community College (KCC) Learning Resource Center in October 1974 to organize the non-print collection of the college, which consisted of 629 audiotapes, 286 filmstrips, 199 phonodiscs, 1,436 slides, and 13 videotapes. Libraries were expanding their book collections by adding non-print/media materials, which at KCC, like in most libraries, were largely uncataloged and hard for faculty and students to locate. As media cataloger, Catherine was doing that aspect of librarianship that librarians love to hate but which she loved with a passion -- the cataloging and organization of materials to make them accessible.

IN SEPTEMBER 1975, Catherine was hired to fill the newly-created position of assistant librarian for technical services. As an assistant professor on tenure track, Catherine started yet another chapter in her always engaging and challenging career. With the head librarian on sabbatical leave, Catherine stepped in to coordinate the move of the college library to the new campus in Puhi in December 1976. Hurricane 'Iwa destroyed the college library in November 1982, and during the renovation the latter part of 1983, with the head librarian on another sabbatical leave, Catherine in her capacity as acting head librarian, once again served to implement plans to put the books, periodicals, media resources, and equipment where they belong after the ceilings and carpeting on two floors in the 36,000 square-foot facility were replaced.

WHEN CATHERINE LO TOOK OVER as head librarian in January 1987, her focus was the automation of Kauai Community College Library. Linking the library with the other libraries in the 10-campus University of Hawaii System on the integrated online library system was an exhilarating challenge that Catherine welcomed and handled with confidence once she got over her initial trepidation with computers and technology.

CATHERINE LO RETIRED as full professor in December 1992 after serving Kauai Community College for 18-1/2 years. She continued working on "The Garden Island Index," which kept her busy for another decade, but she found more time to write poetry and to revisit her file of 300 some poems, many of which she wrote while she and Karl lived in Italy and New York.

TO CATHERINE PASCUAL LO, life is like a coin. For her, the obverse is librarianship; the reverse, poetry.

As a working librarian, especially when she was a cataloger, she read by day and wrote by night. In retirement, she writes by day and read by night.

THE ENGLISH LANGUAGE, which was Catherine's second language, is a puzzle and a challenge, and for her, writing poetry is an enjoyable way through the English language maze where she often finds herself. When she loses direction, which happens often, she calls upon experts to help her by reading the books that surround her.

"The Garden Island Index"
"THE GARDEN ISLAND INDEX" continued to keep Catherine busy in librarianship another decade after she "retired."

THE CULTURAL, SOCIAL, EDUCATIONAL economic, religious, political, literary, artistic, and athletic history of Kaua`i is chronicled on the pages of "The Garden Island" newspaper. And the newspaper is a primary source of biographical information sought by genealogists and other researchers. But without an index to the newspaper, locating wanted information is difficult.

LIBRARIES ON KAUA`I have long recognized the need for an index to "The Garden Island" as the only solution to the difficulty in finding information from the pages of the newspaper. But no library on the island has the staff or financial resources to undertake the monumental task of indexing decades of the newspaper.

AWARE OF THIS NEED, members of the Kauai Library Association (KLA), an association of school, public, college, and special librarians, voted in March 1977 to take on the indexing of "The Garden Island" as an association project. As such, the indexing started as a wholly volunteer effort and remained for the most part a volunteer effort for 24 years.

THE INDEXING WAS STARTED before libraries in Hawaii were automated, when 3x5 cards and card catalogs were tools that made libraries function efficiently and effectively. The indexers, therefore, used 3x5 cards to lift historical and biographical information from the pages of the local newspaper, creating a card index. They made a big push on the project between 1977 and 1987, indexing current as well as retrospective issues of the newspaper.

JOINING WHAT WAS AN ASSOCIATION of practicing librarians were library technicians, library assistants, retired librarians, and other library-oriented members of the community eager to work on the project. The concerted effort of the indexers during the1982-83 academic year brought to completion the indexing of the 1971-1980 issues of the newspaper. In addition, the indexers worked on other decades of the newspaper.

CATHERINE LO SERVED AS EDITOR and director of "The Garden Island Index," and dedicated 25 years of volunteer service to the project. The card index is located at Kauai Community College Library. The 1911-1929 section of the index is accessible on the KCC web site: www.kauaicc.hawaii.edu/. Or, user can access the index on Google.com by simply searching under "Garden Island Index."

IN MAY 1987, after 10 years of work by more than 40 volunteers, the Kauai Library Association published "The Garden Island Index, 1971-1980," a 328-page folio size volume, with funding from Alexander & Baldwin, Friends of the Library of Hawaii, H. S. Kawakami, McInerny Foundation, Elsie H. Wilcox Foundation, and the G. N. Wilcox Trust, who responded to Catherine Lo's proposals for grants, the writing of which was part of her sabbatical project during the 1982-1983 academic year.

A RESOUNDING RECOGNITION of the project came in September 1987, when Hawaii's First Lady Lynne Waihee named "The Garden Island Index" as Kaua`i's most innovative project and recognized its volunteers: Karl Lo as outstanding adult individual, Harriet Albao as outstanding senior volunteer, and the Kauai Library Association as outstanding volunteer organization. Accepting the award for KLA was Diana Oyakawa, president of the association for two consecutive terms, 1985-1986 and 1986-1987, who also chaired the Index Finance Committee. Accepting the award for the project was Catherine Lo, editor/ project director.

THIS WAS THE FIRST TIME in the 11-year-history of the First Lady's Outstanding Volunteer Awards that a single project and its volunteers swept four of the five categories, the fifth category being youth volunteer.

"Still Learning To Be Content" Exhibit

IN 2002, artist Helen Mehl, poet Catherine Lo, and sculptor Jane Viles collaborated in an exhibit at Kauai Museum. Inscriptions on stone water basins at the entrances of Buddhist temples in Japan that read, "I learn only to be content," inspired Helen Mehl to paint "Learning To Be Content" in 1998. Her 24 x 28 inch oil on canvas in turn inspired Catherine Lo to write two haiku:

I.
Stone water basin
Stands at the temple's entrance
Teaching contentment.

II.
Kyoto's temple:
One comes to rest and to pray
And learn contentment.



"A poet's autobiography is his poetry.
Anything else is just a footnote."

--Yevgeny Yentushenko
"The Sole Survivor"
1982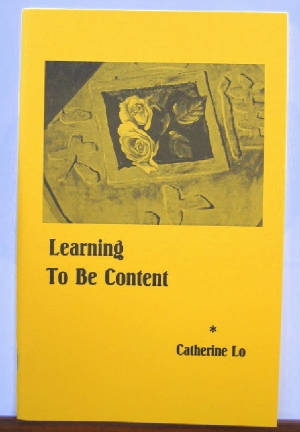 For the May 30 to July 25, 2002, exhibit at Kauai Museum, Helen Mehl interpreted on canvas 11 of Catherine Lo's poems, which were framed and displayed alongside the paintings, of which there were 13. The chosen poems -- AND FALLING TOGETHER, a haiku on Maha`ulepu, THE BACKYARD BOASTS OF A MANGO TREE, GOLD TREES ON PO`IPU ROAD, I'M A CRACKED POT! WHAT ARE YOU?, LEARNING TO BE CONTENT, LET LOVE BE FRUGAL, LITTLE PONDS AT PAGODA GARDEN, MAHA`ULEPU, MRS. ALTER, SEA AT MY WINDOW, and THERE ARE NO POINSETTIAS IN THE PHILIPPINES are included in a 52-page volume of poems, "Learning To Be Content," which was compiled for the exhibit.

THE CHAPBOOK was available for purchase at Kauai Museum Gift Shop in Lihue, Borders at Lihue, McBryde & Allerton Gift Shop in Po`ipu, Tin Can Mailman Books & Curiosities in Wailua, and Talk Story Bookshop in Hanapepe.

Publications, Research, And Other Creative Activities
BOOKS

The Garden Island Index: A subject, author, and photographer index to selected article in The Garden Island, 1971-1980. Catherine Lo, Editor/Project Director. Karl Lo, General Assistant. Associate Editors: Martha Doutt, Robert Kajiwara, Joan Kunimura, Katherine Peters, Bonnie Shimatsu, Sandra Trenholme. Assistant Editors: Isabel Adorable, Harriet Albao, Edith Hashizume. Published by Kauai Library Association. Lihue, Kauai, Hawaii, 1987. Printed by the University of Hawaii Press. 312 p. Oversize.

Learning To Be Content: Selected Poems of Catherine Lo. Koloa, Kauai, Hawaii: K & C Co., 2002. 52 p.

Lihue Lutheran Church: A Centennial Album. Research, text, and layout: Catherine Pascual Lo; photography: Karl Lo, James Haas, Keyte Haas, Manuel Rasay. Lihue, HI: Lihue Lutheran Church, June 1981. 96 p. ( Listed in the bibliography of Edward Joesting's KAUAI: THE SEPARATE KINGDOM. 1984).

Some Help In Ilocano For Helping Profesionals: A guide containing words, phrases, and sentences useful to physicians, nurses, social workers, teachers, and other "helping professionals," by Catherine Pascual-Lo, Teresita Sotelo, Isabel Adorable. Lihue, Hawaii: Kauai Community College Learning Resource Center, 1986. 78 p. illus. Reprinted 2002. Prepared for the Tobacco Prevention and Education Program, Kauai District Health Office, Department of Health, State of Hawaii. Lihue, Kauai, Hawaii: September 2002.

ARTICLES

"The Day Freedom Came" -- Coins, January 1976. p.90. (Article on the Roosevelt-Quezon peso).

"Eleele On Kauai" -- Mitchell's Hawaiian Philatelist, Vol. IV, No. 5, September 1982. p.56-57.

"The Garden Island Index: A Key to Kauai's History" -- The Hawaii Library Association Journal, Vol. 40, 1983. p.17-31.


BROCHURES

"Evangelical Lutheran Church of Lihue" -- 1975. (2-fold)

"Koloa Walking Tour" -- Compiled by Catherine Lo. Based in part on the Koloa History Project by the Friends of Koloa Community /School Library. 1989. Revised 1992. Map by Manuel T. Rasay. (2-fold). Inserts, December 2004: Koloa Walking Tour: An Upate; Koloa: Recent Sources; Koloa: Selected Sources, Compiled by Catherine and Karl Lo for the Koloa Walking Tour.

"The Smiths of Koloa" -- July 1992. (1-fold. Written at the request of the Friends of Koloa Community/School Library for the Smith-Waterhouse Family.)

"Some Historical Facts About the Evangelical Lutheran Church of Lihue" -- 1975. (2-fold)


OTHER WORKS

Notes On Books. Weekly column on children's books and on children and reading in The Evening News, Sault Ste. Marie, Michigan. April to June 1966.

Research assistant to Lawrence R. Fuchs. Responsible for Filipino materials in Hawaii Pono: A Social History. New York: Harcourt, Brace & World, 1961. (See p.451)

Served on the Research Team for Historic Koloa: A
Guide by the Friends of the Koloa Community/School Library; edited by Martha Hoverson. Koloa, Kauai, Hawaii, 1985. 32p. Researched and wrote "Tree Tunnel" (p. 17), and "Lawai-Kai" (p.25-26).

Assisted with "Eddie Spirer, 'The Little Minister' *Bagel Gospel, Jelly Roll Ministry+ by Ross F. Hidy. Concord, CA, Lutheran History Center of the West, 1992. 82p. (Provided historical accounts and photographs. Coined "Bagel Gospel and Jelly Roll Ministry" in 1984, and the phrase is immortalized in Pastor Hidy's book and on Pastor Spirer's tombstone at Lihue Lutheran Church Cemetery).

RECENT WORKS
The Filipinos of Koloa. Part One: The Filipinos and the Koloa Experience, 1910 - 1996. Part Two: Remembering New Mill Camp. Koloa, Kaua`i, Hawai`i: K & C Co., 2017. 220 pages. Oversized.
Remembering New Mill Camp. Photography by Karl H. Y. Lo. Koloa, Kaua`i Hawai`i: K & C Co., 2014. 78 pages. Oversize Booklet.
Koloa Union Church. 12-page pamphlet. Text and format by Catherine Lo. 2008.
Koloa Union Church. Two-fold brochure. Text and format by
Catherine Lo. 2008.
Iliahi
: Home of Caleb & Florence Burns, 1934 to 1967. Two-fold brochure. 2007, 2012.
WEB SITES
Hanama`ulu Neighborhood Association
"Garden Island Index, 1911-1929"
GARDEN ISLAND INDEX, 1911-1929 is on the web site of Kaua`i Community College. Open LEARNING & COMPUTER RESOURCES ... LIBRARY .... FIND MAGAZINE, JOURNAL, & NEWSPAPER ARTICLES.

GARDEN ISLAND INDEX (1911-1929) is under NEWSPAPER. The short route to the index is to search GARDEN ISLAND INDEX in Google.com.
 


THINGS THAT AUNTIE C TAUGHT ME

LISA-MARIE SASAKI CASTILLO
January 26, 2007

 

My Auntie would always say,
"Lisa-Marie, "When there's a will, there's a way."

Fiesty, practical, highly-logical, independant,
Frugal, spiritual, highly-motivated, intelligent.
A leader, a planner, a writer, a wife,
A daughter, a librarian, an aunt most of her life...

She is the "Speaker of the House" for us that know her,
Representing the family, she's the "Pascual Senator."
And the memories that she's made with all of us are many...

I remember swimming with my brother at the beach behind Grandpa Lo's house,
Picking opihi and limu for Grandma to make a special dish.
I remember sitting beside her watching her open her jewelry box,
Strings of pearls and jade...gifts from her Mother-in-Law.
"You see, Lisa-Marie, if you are a good daughter-in-law,
perhaps one day your Mother-in-Law will grace you with gifts like this too."
So I was a good Daughter-In-Law,
And I found that I was given so many more riches in that relationship than gifts of jade and pearl.
I'm glad that I was good to my Mother-In-Law.

It was in times when I didn't have money,
that I smiled when I remembered Auntie C
walking around in duck-taped slippers...

"If you don't need it and can IMPROVISE, then
DON'T BUY IT."

I practice that rule religiously ...
I don't duck-tape my slippers,
But I definitely don't purchase what I don't need.

I remember asking her how she was able to save her money.
I remember her saying, "I always ask myself,
DO I NEED IT?"
Oh, HOW THAT has gotten me through lean years.

She was the first in our family to venture out and see the world.
How she inspired the rest of us to take advantage of every opportunity to experience it.
And now my daughters travel the world,
Appreciating other cultures,
Appreciating the one we live in.

In a family of strong, intelligent women,
She was the one who wrote,
Wrote down her feelings,
Wrote it in poetry and prose,
Wrote about sunsets and sisters,
Elephants and life on Kauai...
And I found a love for writing too,
Wisdom in words, expression through words,
Words speaking my heart as they fall on paper...

And she showed me how to love words...
I remember sitting in the car with her and uncle,
Waiting to pick up Grandma from Woolworths.
"Lisa-Marie, what rhymes with 'FAT"?...
"Fat, cat, sat, mat, bat, rat..."
"OK, what rhymes with "RING"?
"Ring, sing, thing, fing...."
"Fing? Is "fing" a word? Well, if you made it up,
I guess you can make it one,
but no one else will know what you are saying..."
And we laughed ... making up words
that no one else knew,
Not even us.

She taught me that the best gifts in life are those homemade ones.
How many gifts I have received made by my uncle's talented hands,
With embellished cards of calligraphy from her own,
Gifts from the heart -- I still cherish homemade gifts....

I wasn't there when it happened,
When she found out about cancer...
Facing death head on, never complaining,
Not our Auntie C ... ever practical, ever strong,
Never wanting us to worry, even though we did...
A survivor, a winner,
Unflagging courage to ever enjoy life still...
And she meets life head-on with unwaving energy,
Organizing meetings, getting the job done.
Bringing people together to celebrate life,
Celebrate the past and the present...
Because she has a sentimental heart,
and understands the importance of memories...

She says "elephants are a symbol of memory and strength,"
Perhaps that is why she loves elephants so much,
Because they remember so well,
And wonderful memories are a wealth of love, joy and happiness.

Thank you for the memories.
I have many to remember ...
Thank you for this amazing gift.
Thank you for touching my life in so many ways.
I love you.

(By Catherine-Marie Junior)

Copyright 2007 Lisa-Marie Castillo

Copyright 2004-2018. Catherine Pascual Lo. All Rights Reserved.
No part of this Website may be copied or reproduced without written permission from
Catherine Lo: P. O. Box 887 -- Koloa, HI 96756