Sunset At Po`ipu, Kauai, Hawaii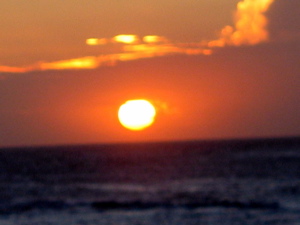 Karl Lo Photo
ODE TO TOWELS
Towels, towels everywhere!
Each thoughtfully and strategically placed:
Bathroom towels, kitchen towels, and one
On the door of the refrig to keep the handle clean.
And Karl has one in the garage
To wipe the grease off his hands
When he works on the 1964 Plymouth.
"It's the last of the push buttons," he reminds me.
"Big Blister is part of the family; he stays."
"Big Blister?" you ask. Yes, and there was
"Little Blister" before that!

The towel known in Christendom inspired Ode to Towels:
The towel that Jesus used when He washed the feet of His disciples. (John 13:1-17)
"Jesus, knowing that the Father had given all things into His hands, and that He had come from God and was going back to God, rose from supper. He laid aside His outer garments, and taking a towel, tied it around His waist. Then He poured water into a basin and began to wash the disciples' feet and to wipe them with the towel that was wrapped around Him." (John 13:3-5)
After Jesus washed His disciples' feet
He left the Last Supper for the Garden of Gethsemane
To pray on the night before His crucifixion.
As we celebrate Christmas,
The birth of Jesus Christ,
The Prince of Peace,


And gift family and friends with towels,
We are reminded of the lesson in humility
That Jesus taught His disciples with the endearing act
Of washing their feet and wiping them with a towel.
Merry Christmas! And a Blessed New Year!
©Catherine Lo | Kukui`ula, Kaua`i, Hawai`i |December 2016
* * *
ODE TO SIMPLE JOYS
At daybreak, I walk near the water's edge
before footprints alight on the sand
and accept with thanksgiving
the peace offering of the blue Pacific Ocean.
At sunset, I stop where the water meets the sand
to appreciate anew the beauty
that the setting sun paints upon the water
and on the attending clouds
above the horizon.
Sunrise or sunset,
whatever the time of day,
whatever the weather,
whether the Hawaiian sun
is warm against my skin,
whether I feel the teasing touch
of sudden Hawaiian showers,
I marvel at the beauty that surrounds me.
I marvel as I watch
the magnificent happenings before my eyes
determined not to deny myself
the lessons from life's simple joys.
Copyright Catherine Lo -- 1992/2003
* * *
ODE TO NEW MILL CAMP
Remembering New Mill Camp
Green fields of sugarcane tasseling in beauty:
Red houses with galvanized roofs glistening in the sun:
The humming of machines grinding sugarcane
Gives New Mill Camp its incomparable rhythm.
The spacious and welcoming porches
Invite family and friends to visit:
Sharing is a way of life:
Homelessness is an alien predicament.
The sugary smell that permeates the air
As the mill makes molasses magic
Is perfume beyond compare
Bottled and preserved in memory capsules.
Green fields of sugarcane tasseling in beauty:
Plumerias and birds of paradise blooming in splendor:
Mangos and bananas planted in abundance:
That's home! Koloa's Crown Flower Camp.
Copyright Oct. 1, 2014
* * *
ODE TO PLANTATION DAYS
Green fields of sugarcane tasseling in the sun:
Green fields of pineapple with fragrant ripening fruits:
Green colored the world of camp communities
In historic plantation days.
Trees, shrubs, bushes and gardens
Graced the narrow dirt roads;
Spacious and welcoming porches
Created an intimate communal closeness.
Sharing was a way of life:
Neighbors lived as one family:
No one was ever homeless:
At camps of green or red houses.
The sugary smell that permeated the air
During sugarcane grinding seasons;
The soot that made black feet a normal condition
Now distant plantation days memories.
Green fields of sugarcane tasseling in the sun:
Green fields of pineapple with their fragrant ripening fruits:
Green colored the world of camp communities
During historic plantation days.
(August 19, 2014)
* * * * *
ODE TO INSIGHT
There is poetry in poverty:
if we rise above self-pity,
understand our problems,
look into opportunities,
use wisdom in our decisions,
create beauty in our life.
There is love in envelope:
if we open it and respond.
There is love in revolution:
a dyslexic sort of love,
hard to see and understand,
the root of heartache and problems.
There are fiends in friends:
lest we fail to realize.
There is win in wings:
the prize for flying high,
the reward for taking the high road.
There is God in Good:
if we take time to look,
if we take time to seek,
if we take time to find,
if we take time to ask,
if we open the door to our heart.
(1.6.2002/6.26.2014)
* * * * * * *
ODE TO PEACE
The sounds of Christmas carols have faded away,
And television stations have ceased presenting
Christmas stories and celebratory programs.
The Christmas ornaments are boxed
And stored on the closet shelf
Until next Christmas.
Calories gained from lunches, dinners and
Other Christmas socials still remain,
And the Christmas message of
Peace on earth, good will to men
Still abides in our hearts
Because we don't set it aside after Christmas.
The Angelus that rang morning, noon, and sunset
In the Philippines where I grew up comes to mind.
Its urgent call for prayer abides in the core of my being.
And I sing in my heart a song we sing at Christmas:
"Let there be peace on earth,
And let it begin with me . . ."
Oh, that churches from coast to coast ring the Angelus
And men, women and children stop and bow their heads
At the sound of the Angelus and pray for peace
Morning, noon, and sunset!
There would be peace on earth
Because it would begin with everyone.
(12.28.2004/05.29.2007)
ODE TO FRIENDS
We cannot tell the precise moment
when friendship is formed.
As in filling a vessel drop by drop,
there is at last a drop which makes it run over;
so in a series of kindnesses there is at last
one which makes the heart run over.
-- James Boswell
You wrote a hymn in my heart years ago:
Exactly where, I do not know,
Precisely when, I can′t remember,
But you wrote a hymn in my heart.
With merit that's not mine
Its melody and lyrics
Offered rhythm and rhyme
Guiding us through unexpected paths.
You wrote a hymn in my heart years ago:
A song of friendship that only friends can sing
With hope, with faith, with joy, with love,
Enriching our lives beyond description.
Our friendship is etched in our hearts with grace
And constant goodwill makes the etching clear and indelible.
God Himself has preserved the hymn in our hearts:
A benediction for friends forever.
Copyright 10.2005/12.1.2013
* * * * * * *
ODE TO CHILDREN
Sis, yes, we want a world of peace,
A world of caring and compassion,
But failing to recognize the first step,
The possibility eludes us.
The world that nurtured our parents and grandparents
Is a world not gone forever,
And the gentle world that watched us grow
Could be our grandchildren′s legacy.
Not all mothers can be stay-home moms
To teach children right from wrong,
And good behavior and proper conduct
Can be learned from working dads and moms.
Giving comes with practice,
And children learn from their elders;
The unwritten play house rules that little people follow
Become the foundation of adult principles.
Today′s children can have childhood filled with fun
Like the fun-filled childhood their grandparents had.
They can borrow books from the library, for example,
And visit museums and learn from history.
With devoted parents and surrounded by elders who care,
With an environment that′s generous and compassionate,
Children grow up to be caring and courteous,
Gracious, giving and kind.
Sis, yes, we want a world of peace,
A world of caring and compassion,
And the first step begins with us
When we show children the ways of peace.
(8.28.2002/6.2.2003)
ODE TO PAPER AND PEN
Whenever I feel nostalgic
for simpler times
and carefree days;
When I miss the company
of family and friends;
When Kona Wind and rain
depress me and change my plans:
I do mental exercises
with paper and pen.
Copyright 1.2.04/3.22.13
ODE TO KONA WIND
Oh, Kona Wind, wind from the southern shores:
Often many don't know that you prevail
Until breathing becomes labored,
And a feeling of déjà vu tugs on consciousness and
That sick feeling from your previous visits returns.
Oh, Kona Wind, wind that blows from the island
Where that famous Hawaiian coffee grows,
If only you bring Kona coffee aroma
Instead of fog from the Big Island of Hawai'i,
Instead of that insufferable vog!
Oh, Kona Wind, wind from the southern shores:
Many appreciate you, like Cousin Luther
On the island of O'ahu who enjoys fishing
In waters near Kane'ohe whenever you visit
Because your presence helps him and his friends
Bring in satisfying harvest from the ocean.
Oh, Kona Wind, wind from the southern shores:
Whistling Willie continues his happy tune
But like a shy suitor calling his beloved to look out the window
He hides in the mango tree in the backyard
Teasing us to locate him but always ensures we don't succeed.
Oh, Kona Wind, wind from the southern shores:
We thank you for reminding us with each visit
Our gratitude to the Trade Wind, always cool and refreshing,
But which we take for granted
Until you bring to our midst fog, vog, and humid air.
© Catherine Lo | October 2012
ODE TO GIVING
I am waiting for Phil and Karl.
A sparrow alighted on the arm
of the easy chair across where I sit.
He looks at me as if to ask
Do you have anything to give me?
I move my head from side to side
And I believe he understands me:
He stretches his wings
And hops down to the granite floor
And pecks on a speck near where he lands.
I look across the garden to see if Karl and
Phil are in sight. Not seeing them,
I know they are still looking at and admiring the koa pieces
crafted by meticulous artists who give their special talents
that make Martin & MacArthur a favorite of many.
I continue to enjoy the ambiance at the
Grand Hyatt as I write my thoughts
on the notebook that I carry in my purse.
My thoughts return to the sparrow and
I wonder where he has gone.
I regret that I have nothing to give him.
He should have come to Ilima Terrace
where we had lunch: I could have given
him some bread from my sandwich,
but I do refrain from feeding the birds
who come begging at every opportunity.
Keoneloa Bay fronting the resort
Continues to give its beauty and peace.
This sacred and awesome place asks nothing in return.
But those who are privileged to enjoy its endless gifts
Must give back by giving Keoneloa Bay respect and care.
COPYRIGHT: 7.18. 2012
Sunrise as seen from the Los' front porch

Catherine Lo Photo | 10.11.11
ODE TO WRITING
How does a poem come to life?
Let us consider the ways.
Love gives birth to a poem:
Love for the written word:
Love for meter and rhyme:
Love for form and rhythm.
Ideas inseminate imagination.
Pregnant with thought, the mind
Calls on the heart to assist
With breathing and birthing.
Some poems are conceived in the stillness of night:
when darkness veils the Earth:
when the pulse of the world beats slowly and the poet
writes in tripping trochee tempo.
Other poems arrive at dawn
when the world is waking up and the air is fresh
and the poet writes with the speed of a galloping horse:
with the spirit and freedom that anapest may provide.
Still other poems are conceived
in the heat of day when the pulse of the world is racing and
the poet writes with iambic determination
on love and life and matters of the heart.
Some poems come to life unplanned:
Begotten by a feeling and caring heart:
Midwifed by an active and a creative mind:
And nursed by truth and love.
Copyright Catherine Pascual Lo | 2003
ODE TO PENCILS
I'm a pencil . . . what are you?
Are you a pencil, too?
I need sharpening often . . .
What about you?
I'm useless kept inside a desk drawer
A hand must pick me up
And guide me to make my mark.
A steady hand is best
For desired results
And if I stray, the hand that guides me
Must make the mark right.
I'm a pencil . . .
Are you a pencil, too?
I need sharpening more often than most pencils do.
Do you need sharpening often, too?
Copyright | 2.2.12
ODE TO PO`IPU
For Sarah Lebby
Aspen, CO & Poipu, HI
You are simpatica, Po`ipu!
Sunlight surrounds you
And cardinals sing praises to you
Morning, noon, and evening.
The heavens conceived you, Po`ipu!
The Pacific Ocean offers concerts at your backyard daily,
And the setting sun performs
A dramatic and exciting finale!
Palm and coconut trees whisper poetry in your ears.
The stars serenade you
And the moon hovers over you like a lover
Intent on showing you his glowing attention!
Yellow and red hibiscus adorn you
Accenting your beauty with radiance.
You honor the Creator with your grace and beauty.
You are a blessing to those who know you, Po`ipu!
COPYRIGHT | January 8, 2010
ODE TO THE OCEAN
Your spontaneity calls my attention:
your early morning calls
of thunderous clappings and deafening drum beats
rouse me from bed
with their enticing persistence.
You beckon me to come
to watch your spontaneous performance,
maybe rest in your bosom for a rejuvenating visit.
But like a rejected lover
you get no response from me.
Copyright Jan. 11, 2010
ODE TO ILIAHI
Iliahi, I've longed to see you, and I'm back!
I'll return again … and again …
As long as your arms are open
To welcome me in warm embrace.
Many do not know you, Iliahi!
I have loved you decade after decade.
I knew you when you were younger and charming,
And always carried yourself with charm and grace.
Oh, you are still elegant and attractive, Iliahi!
Especially when the sun finds you
Sitting on your magnificent hill,
In your striking and appealing pose.
I have loved you from near and far, Iliahi!
But you belong to someone else!
You are a feast for my soul, Iliahi!
I will always find you glorious and inspiring!
Copyright March 14, 2008/March 4, 2012
The author wrote "Morning Thoughts at Iliahi" when she was home from college one summer. Years later, on December 25, 1972, when the author and her husband were living on Governors Island, New York, the original version was published in The Garden Island's "Poet's Corner".
"Iliahi" is "sandalwood" in the Hawaiian language, and the estate where Caleb and Florence Burns lived from 1934 to 1967 was named Iliahi after the tree that was at the site when the land was cleared in October 1933 in preparation for the construction of the home of the future manager of Lihu`e Plantation. One source says that the tree was used in the house in some unspecified way, thus the name as a reminder that sandalwood grew on the slopes below Kilohana Crater. Mr. Burns was manager of Lihu`e Plantation from July 13, 1933 to April 1951. The author's dad, employed by Lihu`e Plantation as an electrician in 1946, joined the manager's staff in 1947, and the family of six settled in three cottages at Iliahi upon arriving from the Philippines on February 23, 1954. Mom and Dad lived at Iliahi until summer 1967 when the Burnses moved to Honolulu.

ODE TO WAI`ALE`ALE
Wai`ale`ale, beloved mountain of Kaua`i,
You are the heart of the Garden Island!
The myriad waterfalls accenting your emerald cliffs
Make you the greenest
Of the Garden Island's green gardens!
On days when clouds do not create a screen
Between you and Kaua`i's bright skies,
Your magnificence is visible from near and far,
And your inviting hills, valleys, and cliffs
Glisten in their greenness.
You are a masterpiece of Mother Nature, Wai`ale`ale!
And Mother Nature continues to add strokes of beauty
As your abundant rippling and overflowing waters
Create cascading beauties like `Opaeka`a Falls!
And the twin rapids of Wailua Falls!
Hardy hikers trek up to your summit, Wai`ale`ale!
Your lovers sleep on your bosom
And hear your heart beating with rhythmic peace.
You give them unforgettable thrills
As they view the Garden Island
From your verdant slopes and hills!
I join the folks on Kaumuali`i Highway or on Kuhio,
Who look up to you in awe and gratitude, Wai`ale`ale!
You are the Green Giant of the Garden Island!
(8/2007)