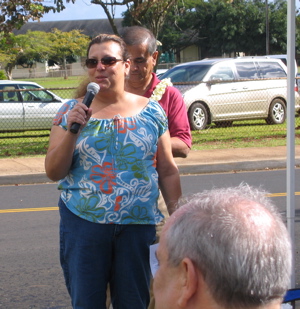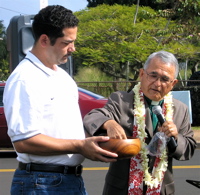 ABOVE:
Fig Mitchell, vice-principal of King Kaumuali`i School,

 assists the Reverend Roy Sasaki

 

as the pastor, in keeping with Biblical purification practice, mixes salt and water with which he blesses the signs.
 RIGHT:  Helping with the unveiling of the WELCOME TO HANAMA`ULU TOWN sign are Fig Mitchell and Jay Furfaro on the left, and on the right, Beth Tokioka, executive assistant to County of Kaua`i Mayor Bernard Carvalho,  and Lenny Rapozo, director of the Dept. of  Parks and Recreation.
RIGHT:  Lenny Rapozo; Eddie Sarita, Hanama`ulu Neighborhood Association chair; and Peter Rayno Jr. unveil the PETER RAYNO SR. PARK sign as Pastor Sasaki blesses the sign as the rain clouds gather for a heavy downpour.
RIGHT:  Eugenio "Kila" Delos Reyes, William Neil Rapozo, HNA treasurer; Mrs. Gene Rayno, Unidentified, Florentino "Tono" Duterte, Peter Rayno Jr., Gene Rayno, and Ben Alayvilla stand in pride and joy behind the park sign to remember and honor Hanama`ulu's beloved coach in whose memory the park was named in 1983.  Heavy rain followed the photo op.
Vic Villon, HNA vice-chair; Duterte, and Alayvilla, installed the signs, cleaned the sign locations, and landscaped the base of the WELCOME sign.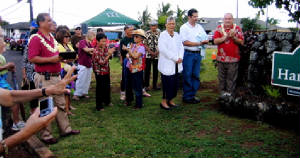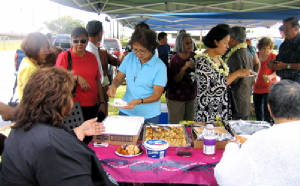 Photos by Karl Lo